We've heard it all these days, in regards to the X6. It's the answer to a question no one was asking… What's the point…? Bangle ruined BMW…. But if you look closely, not too many out there have actually tried to review the X6.  At least not in a thorough fashion.
That's why we are bringing you an article based review, with a video based review. We want to cover all angles for you. There's no need to hide it, and this I shall get out from the beginning: the BMW X6 is expensive. Too expensive, I believe. But that doesn't tell you anything about it. So here's the rest of the story…
To tell it the proper way, I must add that pretty much every fellow writer that I spoke with before getting the X6 from BMW, and each one I talked to while having it, told me that I was going to hate it, or strongly dislike it. I feel neither of those emotions is at all true from this writer. I came out enjoying the X6 as if it were a vehicle I would go and buy myself. I drove the X6 xDrive35i from Newark, NJ, stopping off in Columbia, MD to visit some family, and then down to my home in Raleigh, NC. In total, I covered roughly 1,500 miles between driving it down and then back up.
In the amount of time I had the BMW X6, I realized, it packs a lot of punch for something that's only meant to carry four people and a little bit of cargo. The 2010 X6 xDrive35i has the N54 twin-turbo inline-6, making 300hp and 300lb-ft of torque (the 2011 will have the N55 single turbo).
However, we know from past experiences that the N54 can actually make closer to 360hp and 350lb-ft of torque at the crank. That's roughly what the 4.8-liter V8 from the E60 550i and E65/E66 750i/Li had. All-in-all, the twin-turbo six will haul the X6 to 60 in about 6-seconds with the Sport Package. Impressive for a car that weighs just shy of 4800lbs.
I was able to haul people 6-feet tall and under in the back seat with room to spare for their legs and heads. However, any taller than 6-feet, and you're pushing your luck. With that said, I was able to fit three medium to large roller suitcases in the back, and also allowed space for three full backpacks underneath the cargo area (the floor opens up to reveal this) in the back of the Sports Activity Coupe.
It was certainly impressive amounts of space for something that everyone told me before hand to be cautious of.
In the front, well, that's where the fun is. The BMW X6 has many different things to play with. Whether it's the iPod adapter, the revised iDrive control system, or just sitting back and relaxing in the comfortable sport seats. This X6 unfortunately didn't come with iDrive navigation…
Overall Driving 4.5 out of 5:
The overall driving impressions of the X6, at first, were rather good. It took me a second to get used to where everything was and what it did.  When you do learn it -rather quickly with the revised iDrive- you enjoy the driving experience a lot more.
When I started my journey, I was in traffic on the NJ Turnpike. Not the most ideal place to be on a Friday at 5 o' clock. But I learned a lot about the X6 driving it in traffic. For one, the xDrive35i may very well be the better of the two X6s offered (xDrive35i and xDrive50i).
I know that may sound crazy, but here's why.
Driving along on the highway, I was returning, according to the trip computer on my way back from Maryland, about 23.5 mpg with an average speed of 54.3 mph. That was just 191 miles into the trip. Once it started with some hurricane style downpours continuing until I got home, I was going slower and returning about 21-22 mpg. Not bad at all for a utility vehicle doing 60-75 mph on I-95 and other various highways with similar traffic and speed limits.
Getting back into North Carolina, I filled up the following day and realized that I had gone a total of 431 miles on one tank of gas, with 33 miles left, from Westchester, MD to Raleigh, NC. I had been driving in traffic on the highway, at various highway speeds, then into extreme rain and finally, city driving. According to BMW's trip computer, I had successfully done 21.5 mpg on the dot, and kept an average speed of 49.9 mph. Maybe I should have slowed down a little more in the rain… but the BMW X6 gave me so much confidence in everything I drove in, that I never felt, at any time, I was in any sort of danger. The typical highway stuff of people cutting you off, dodging interesting things in the roads, and people even swerving to avoid something right next to you, not one time did I feel as if the X6 would do me any harm, or allow me to get hurt. It may sound hokey, but I mean it when I say, I've never felt so safe in any automobile.
I have heard some people who calculate their miles per gallon manually say that BMW's trip computer can be up to 1.5 mpg better than in actuality. So with that, the X6 still did 20 mpg in all types of driving habits and styles.
Technology wise, BMW has been considered a pioneer and many times they have changed the way we drive each day. Some people hail it them as the killers of the turn signals, navigation and user controls, as well as the joystick drive system. All of these I disagree with, but there's been one thing that I was pretty afraid of, and that was the push button parking brake. I was afraid that the e-brake was now no longer for emergency use, but just a push button for when you're on a hill.
So if you actually do need it while driving, you can't use it because the computer won't let you… This isn't the case.
At about 60 mph on a long stretch of back road, with no one around, I pulled the parking brake button towards me, and low and behold, it stopped the car in an emergency panic. Bless you BMW for not taking that one last thing away from us.
Comfort 4 out of 5:
Driving the X6 all that I did was fantastic. While continuing to feel safe and secure, I have also felt extremely comfortable. One wish that remained unfilled was sport seats offering a manual bolster setting, because I found myself wanting them to be a little tighter on my sides.
Also, even though the knee bolsters are fantastic, the X6 that I had seemed to have touchy ones. If you went to sit up, or reach over into the passenger or rear seats, the backs of your legs hit against the bolster and push them in to the point where it sounds like you have broken them. Maybe it was just the vehicle I had.
The back seat riders said they had good comfort, but wouldn't have been comfortable for anyone too tall or big.
One more surprising thing about the X6 is the actual ride comfort. With the 20″ sport wheels, one would  have expected something much more harsh and choppy, but that's not the case. The X6 xDrive35i with the Sport Package and big sport wheels rides like the proverbial Cadillac…
Sport Package 5 out of 5:
The BMW Sport Package is renowned for being the best blend of sport, luxury, safety and efficiency in all the world. Here is why: when driving any BMW, you feel alive. There is hardly ever a feeling that a computer can and will do it for you, or better than you for that matter. It  is the same in the X6 xDrive35i.
Except for one thing… you can turn it off.
Right behind the gear shifter sits a black button that has a green light when turned on. It says "Sport". Turning this off, you can feel the steering loosen up around town, the brakes a little less touchy, and the accelerator pedal a little more relaxed. Gear changes also seem a little more at ease. So this is good news for anyone who wants a Sport Package without all of the stiff steering and other various inputs that used to come along with it. The guy can have his sports car, but the wife can have her comfy ride if needed.
The best of both worlds is what I call it.
Sound System: 5 out of 5: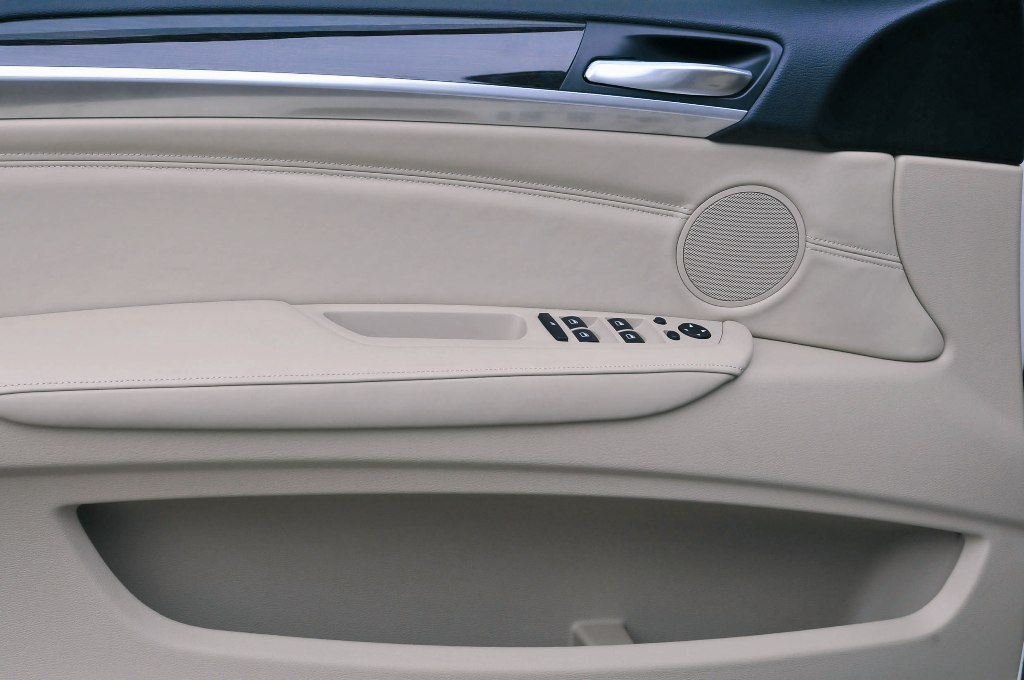 Plain and simple, one of the best stereo systems out there. The Harmon/Kardon Premium Sound system is quite impressive and will satisfy any audiophile out there. You could literally sit an X6 on the stage at Madison Square Garden and power the sound of any rock concert you'd want to hear.
As I said earlier, there were some seriously heavy rains driving down from MD to NC, and the problem with rain is that you can always hear it from inside the car. You can hear it whooshing around the car, under the wheel wells, hitting the car as other cars drive by, etc…. But with my iPod hooked up to the X6 and the stereo turned up rather loud, you hear nothing. And I really do mean nothing. It's quite amazing. I have yet to drive or ride in a car where the noise of the outside world didn't at least interfere a tiny bit.
Pet Friendliness 3 out of 5:
Okay, so the title is weird, but here is what I mean: with the hatchback style rear on the X6, you are looking at a weird angle when larger dogs try to stand up. There is plenty of room back there for most dogs and any cat, but it is not going to be the most comfortable on long drives. In this case, you may want to look at the X5.
My 70-lb German Shepherd was able to get into the back just fine, and had good comfort while laying down. But while shutting the door, I started to feel bad. When she stood up, her body was at a weird angle just so she could look out the back window. There is one thing that makes the X6 pet friendly, the tall rear bumper.
The rear bumper on the X6 is so tall, that animals have to jump a little higher to get in. But if you look closely, say someone rear-ends you… the impact would not drive into the cargo area. It would go underneath of the cargo area. So the rear hatch should remain unharmed, along with most things in the back.
Again, safety.
Final Verdict: 3.5 out of 5
The X6 xDrive35i is more sports car than SUV, but it is much more utility than anyone could expect. You can still tow 6,000lbs, for all you boat, Jet Ski or racing guys. It only seats  four people, but you know what? A Chevy Tahoe, an Escalade, GMC Yukon, Ford Expedition, and the Lincoln Navigator all only hold four people when equipped with captain's chairs.
Yes, they do have a third row seat that seats two, but try putting anything behind those rear seats when going on a trip. This means that you have to put the rear seats down (in the Fords), or in the GM vehicles, unload the 80 lb third row (80 pounds for each seat! I know this all too well… I still have nightmares) and then put all of your luggage in. That's only four-five seats. And those trucks don't have much more room in the back than the X6.
So, the X6 isn't an SUV, but it sure does all the same stuff people use them for these days.
But this brings us to a conundrum. As beautiful and great as this vehicle is, it is quite expensive. This xDrive35i came out to be $67,275 on its sticker, and that's $10,000 too much. It's an amazing vehicle, but I'd buy it CPO (Certified Pre-Owned) and let someone else taking the hit to their wallet. This X6 also didn't include navigation in that price, and that's a lot of money for a car these days that doesn't have it.
With that said, we still recommend buying it, just maybe not brand new.