As most of you know, we will soon see a new 5-Series BMW, codenamed the F10. While there is no doubt the new 5-Series will be a modern marvel in and of itself, in this article we shall take a look back at one of the most advanced BMWs to date.
Whether you liked her or not, you can't deny the numbers or the fact that she was one of the best cars sold since it hit American soil in 2004. She was as safe as she was sporty, and she was as luxurious as a 7-Series could have been, just with a little less interior space. But that didn't stop us all from realizing that BMW could still build one hell of a car with one hell of a controversial body…
Apart from being a modern classic, the E60/E61 5er was, outside of the E66 7-Series, quite possibly the most controversial car BMW has ever produced. Since the first day it appeared at dealerships, people were thinking that it could be the end to BMW's quiet and subtle nature.

Well, that was true, and it's true for BMWs to come. Whether we liked it or not, BMW was entering the 21st century, and they were doing so in a very loud way. Some blame it on Chris Bangle, and others just blame it on BMW allowing Bangle and his team of designers to ruin their favorite cars. I say, a BMW will always be a BMW, no matter if it looks subtle or appears too radical.


By using the simple thought that a BMW will always be a BMW, it has helped a lot of people understand and come around to loving the E60 and its E61 Touring brother. It drove well, felt a little big, but was still as much a BMW as there ever were. The interior was more spacious than the outgoing E39, and offered more creature comforts and incredible and new technology.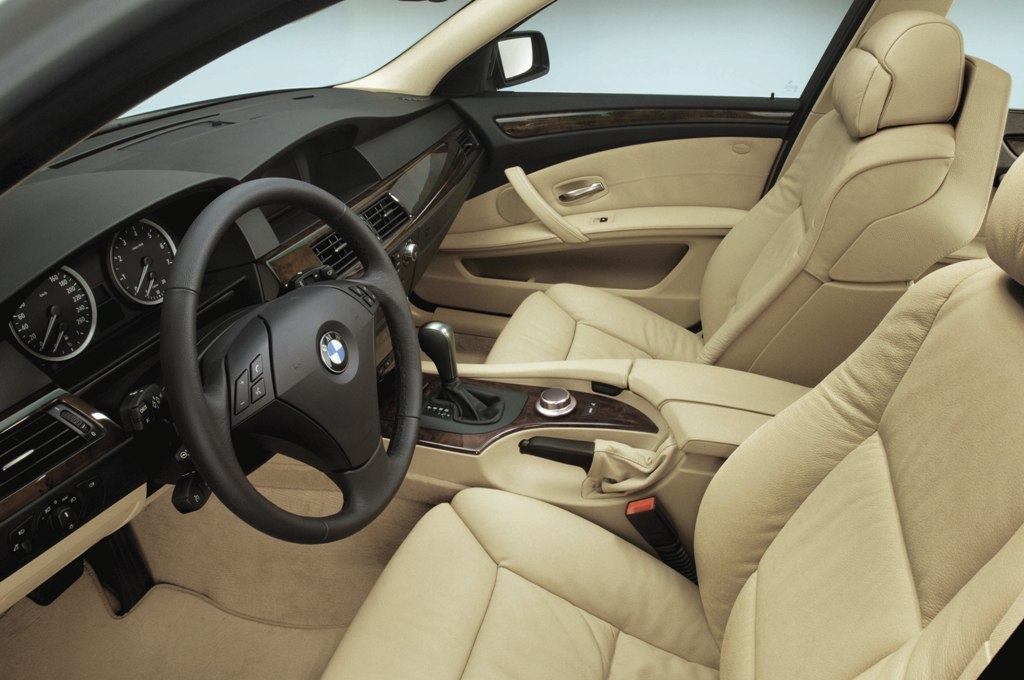 When you first sat in the new 5-Series, you were welcomed by this odd looking, yet incredibly comfortable and rather thick rimmed steering wheel. In typical 5-Series fashion, the seats were relaxing, but extremely supportive, and could even be optioned with the 7s lounge chairs. Having any E60 with the optional sport package was an amazing plus, it was really no doubt meant more for the 545i and the latter 550i. When you sat in either of those cars with the sport package, you felt like you were in a baby M5, but no less incredible. The 4.4L V8 in the 545i put out 325hp and 330lb-ft of torque. More than enough to get all 3900lbs of it to 60 in around 5.4 seconds. That's basically a 350Z from Nissan. And it carries four adults in safe comfort? That's what I call a winner at all costs.
The 530i came equipped in the street race battle with BMW's perfect inline-6 producing 225hp and 214lb-ft of torque, later to be updated in 2006 with 255hp and 220lb-ft of torque. The 525i did just, well, not much, with its 184hp and175lb-ft of torque. But when the E90 3-Series came out in 2006, the 525i, along with the 530i, got an updated inline-6 with 215hp and 185lb-ft of torque.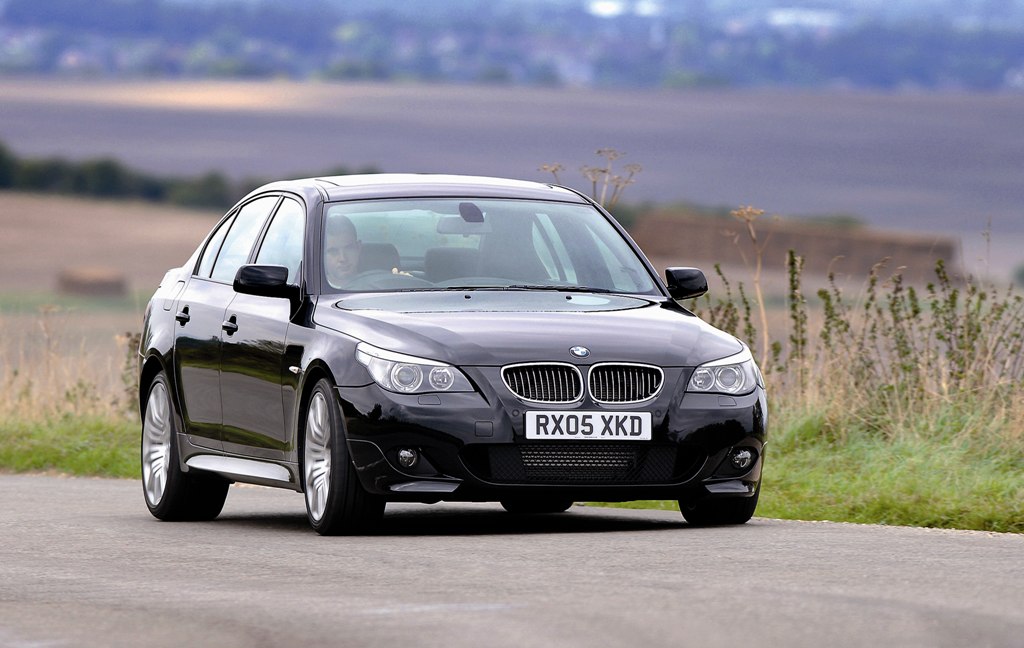 Then came 2007, and an all new V8. The top of the line was now called the 550i and had a 4.8L unit displacing 360hp and 360lb-ft of torque. However, it wasn't until 2008 that we saw what BMW really could do with the styling of the E60/E61. The styling was updated tremendously! With a new front end, headlights, LED taillights and an updated interior coming in to play. And finally, for the first time, BMW brought the M-Sport package styling from Europe to the 550i sport package. But, not just did the new styling make people fall in love, the new engine options made people see visions of "The Ultimate Driving Machine" in its most natural of habitats, the back roads and highways. The 525 was now the 528i with a 3.0L I-6 making 230hp and 230lb-ft of torque.
And while I told you earlier about the 550s new 4.8L V8, the real headliner here was the twin-turbocharged I-6 straight from the Autobahn burner itself, the 335i. It packed 300hp and 300lb-ft of torque, and it went straight into the 530 replacement, the 535i. That may not sound like some crazy amount, but when you take into consideration that the 3.0L twin-turbo 6-cylinder is downrated from the factory, then you begin to realize it has almost as much power from its small powerplant as the 550i does from its V8. That's amazing. The 550i, with the optional sport package, could do sprints to 60 in about 4.6-4.7 seconds. And the 535i could to the same in about 4.8 seconds.


But in order to handle all of this power, BMW couldn't throw their normal automatic transmission into the 5-Series, like they used to. No, BMW worked with ZF transmissions to make a brand new 6-speed unit with optional paddle shifters. This became known as the supreme transmission for not just BMW, but for all of the world. Now, everyone pretty much uses a ZF automatic transmission modified by their terms for luxury, sport and exotic cars. Although, if you're like me, it wouldn't really matter, because you'd be ordering a manual transmission anyway.


The 5-Series has always handled well, but when you put the E60 into some curves, twists and turns, it was so much smoother and more fluid than any 5 before it. The power from the new engines, the sound from them, as well, and the perfect relationship between man and machine had never been so good in a non-M 5. And it still held 5 passengers and their luggage in great comfort. It was sporty first, with luxury coming up closely behind.


With all of the great things about the outgoing 5-Series, one of the best is it could also be ordered in Touring or all-wheel drive. You could only order the wagon in Xi trim, while the sedan could be ordered in RWD or AWD. Only the 6-cylinder models could be all-wheel drive, however. And the same goes for the Touring. Still, you were taking a little sport out of the equation and adding a lot more utility. You didn't have an X5, but you still had pretty much the same cargo space, you just didn't sit up as high. And it's also easier for you to get in and out of places, too.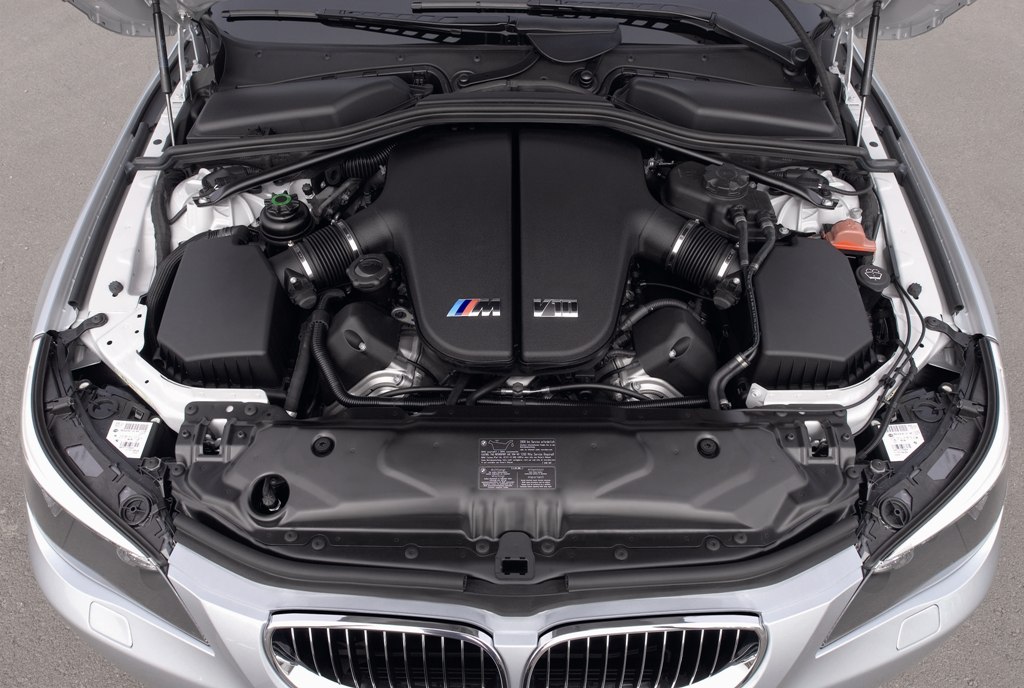 All of this was fantastic and all, but there was no one thing that could have prepared us for 2006. It was the year BMW made history. It was the year BMW took the world and turned it on its head. It was the year of the M5. It wasn't just an all new ///M for the 5-Series. It was a 5.0L V10 500hp, 383lb-ft of torque monster ready to tackle the front lines of exotic battle. It was ready to make a Ferrari bleed its own red blood. It made every exotic sports car cry and run home to mommy. It was boss, and everyone was to see why. No matter if you enjoyed the styling of the interior and exterior of the M5, you weren't caring too much when you heard the V10 of BMW's Formula 1 race car absolutely scream up to 7,750 RPM. Most people will hear the M5 does 60mph in 4.5s.
While that's fast, that's .4s off of how it really does it. 4.1 seconds is the real number. That's a V12 powered Ferrari 612 Scaglietti, folks. And once you take the 155mph limiter off, you'll hit well over 200mph. A friend has quoted me 186mph as the fastest he has gotten, thus far, in his 2007 M5… In fact, the E60 M5 was so good, Motor Trend did a tribute video to it, as seen below. That's pretty cool.

Oh, I almost forgot to mention some of the key things about it. The M5 weighs 4,012lbs. Umm, that's an SUV or truck, and still is listed as a super car. It will also fit 4 people comfortably with plenty of room in the trunk. It has 5 seats, but the middle seat shouldn't really be used for anything other than a child. Also, the M5 came standard with the Sequential Manual Gearbox II, or simply, SMG II. It was the second generation of BMW's 7-speed sequential gearbox with F1-style paddle shifters. While it was a clumsy and not so great transmission, it handled the duties of making the M5 extremely fast without a clutch pedal. Starting in 2007, though, BMW was forced to produce 6-speed manual transmission M5s when many of the car's original American orders where canceled upon the news that only the SMG would be offered.

With that said, some really cool technology debuted with the M5, outside of the V10 engine. It came with adaptive bolsters for the front passengers, that when engaged, would provide extra side bolstering to which part of you was moving while the car was cornering. Also, a new HUD, or Head-Up Display, was featured with turn by turn navigation built into the already stellar transmission, speed and rev visuals. The suspension, transmission, steering, acceleration and pretty much all else, could be all changed to be smoother, harder, sportier, more luxurious, or other things, just by the push of a button. The Electronic Damping Control, or EDC, was able to sharpen up the suspension from normal, to sport and sport plus, the transmission could go calmly into the next gear or ferociously with the push of some up or down tabs behind the gearshifter. And finally, you could change the power from 400hp to 500 or 500 sport. It was an amazing way to create a monster or just putt along in 400 mode to get a little extra fuel mileage.
With all of the accolades of the current 5-Series, there is an Achilles heal that everyone would be mentioning in the comments if I didn't say it here. iDrive. Love it or hate it, it's the backbone of every BMW to date. And most likely every one of them in the future. It's been the most controversial of all things by the automotive loving public, but it's also one of the most widely copied pieces of technology. Mercedes-Benz, Audi, Jaguar, Cadillac, Lexus, Infiniti, Nissan, Toyota and Acura, just to name a few, all have some sort of iDrive style knob and infotainment system. People still hated the way it operated. It confused most people when it debuted on the 2002 7-Series, but most quickly adapted. It's still labeled as the worst thing BMW ever did. While it can be irritating, it's not that bad. At least not to me… I never found it too crude, inoperable or even that painstaking. Although, I am that guy that will sit there with a brand new toy and inspect it inside and out for hours upon hours until I figure out how everything works and why it does a certain job.


In 2009 BMW upgraded the iDrive control unit to a brand new knob and buttons to make it much easier for people to use. Some still complain about it, but I find it even easier than it was before. But, once again, I'm the anything that's hard is more fun, type of person.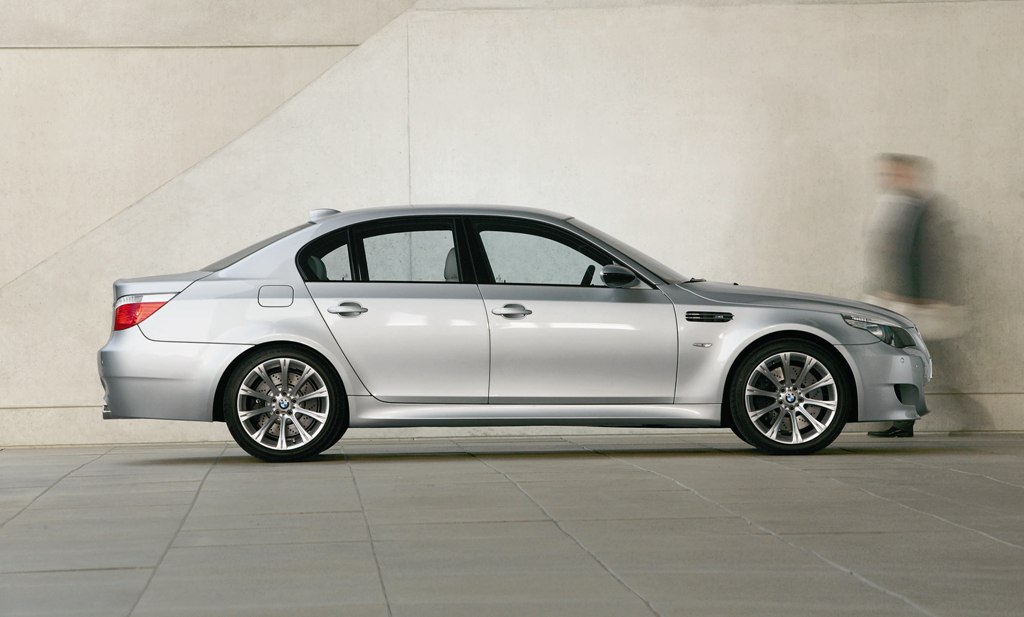 So, it's with all of this love and hate towards the E60/E61 5-Series that I, and everyone else here at BMW Blog, bid it ado. We hope that it will make a wonderful used car for someone, whether it be used as a track car, auto-x car, turned into a 100% racing car, a grocery getter, or the smart man's CPO business car. It's been fun knowin' ya, E60, but it's time for newer and better things. I for one will miss the old girl. I think the current 5s were as good as they got in terms of blending sport, luxury and style all in one. And let's just hope that the new F10 M5 will be even more the beast that the E60 M5 wasn't.
-Josh from RawAutos.com
"Happy Motoring!"