Automotive manufacturer MINI and sports lifestyle brand PUMA have signed a worldwide license agreement sealing their partnership over a period of several years. The collaboration brings together two innovative and iconic brands with a long-standing passion for functionality, performance and design, and centres on a joint collection of clothing, shoes and accessories. The lifestyle product lines will be available from September 2012 under the label MINI by PUMA. Selected MINI dealerships will be selling a range of items, while PUMA stores and PUMA retail partners will carry the entire collection.
MINI by PUMA – Driving style meets sporting fashion.
The collection unites MINI's "creative use of space" principle and PUMA's strengths in designing clothing, shoes and accessories. Inspired by the UK, the home of the automotive brand, the collection features British icons like the Union Jack and bulldogs as design elements to add an extra fashionable edge. High-quality materials, clean lines and contrasting linings combine to create a sleek, stylish look.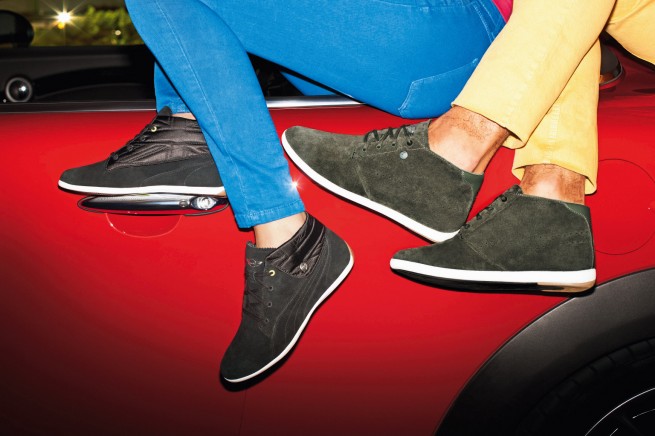 "In PUMA we have found an ideal partner that shares our enthusiasm for a sporty, urban look and lifestyle, has a worldwide presence and, like MINI, appeals to young, open-minded target groups", says Dr Thomas Goerdt, Director Lifestyle Collections at the BMW Group.
The first MINI by PUMA collection, which will be launched in September, features sporty yet stylish unisex bags and accessories, including larger weekend bags, compact handbags and wallets. The cleverly designed interior compartments and zips make for practical bags with ample storage. The strap and handle designs are inspired by MINI seatbelts. The various models come in black with neon yellow luggage tags. The bags will be complemented by a range of sneakers, which will include different models of low-cut sneakers and chukka sneakers for both men and women. The sporty, lightweight shoes have a narrow last and feature "cool Britannia" design details. The collection's colour palette focuses on black, white and green. The MINI by PUMA collection will also feature a variety of fashionable clothing ranging from T-shirts to parkas.
MINI brand partnerships.
MINI has a long history of licence partnerships. For example, the automotive brand collaborated with Japanese shoe brand Onitsuka Tiger on a shoe collection and also teamed up with sonoro audio, a German manufacturer of design audio products, to produce a special MINI multifunctional internet radio receiver. This latest collaboration with PUMA is the most comprehensive license agreement MINI has signed for its Lifestyle Collection to date.
[Source: MINI | Motoringfile]